Up and down we go, so let's just go with the FLOW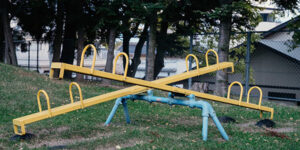 Ever feel like you are stuck on a see-saw? There's no way of getting off… you just keep going up and down, from one extreme to the next, back and forth with no end in sight.
For me, this see-saw ebbs and flows from inspiration to complete despair and disruption. I get inspired by something – ideas or conversations or something I listen to – I get some momentum and put all my energy into the things I am working on. I get so excited and talk about it and do all the things and then just when I think I am starting to make some headway something happens: I get sick or have a family thing or something completely outside of my control shift things and boom, I am down with my arse hitting the seat and a shattering pain searing through my body and mind. All I want to do is curl up in bed and forget everything. Eventually, I pull myself out of this space, usually by listening to a spiritual book and doing lots of meditation and movement. And slowly… slowly… I get back to being motivated and inspired again.
Is this how life is supposed to be?

Maybe it is.
Maybe we are supposed to just keep rocking back and forth between our dreams and our sorrows or thinking we can and then thinking we can't.
Even in our yoga practice, we ride this wave. Surya Namaskar is exactly this, we rise up, we fold on ourselves, we reach out and then we are flat on our face. We lift our hearts and then we're upside down. We pull ourselves together and then fold over again. In final salvation, we pull ourselves up again and reach for the sun. Back and forth… Up and Down…
This is what makes yoga practice so great. Life plays out on the mat every time we get there. We twist and turn, we come with expectations that are shattered or affirmed, so we learn to let go of expectation and just ride the waves without attachment. This is easier said than done, especially when life is hard, but we just need to keep showing up and putting in the work. We keep practising.
Just like life… we keep waking up each morning and moving through the day.
As Sri K. Pattabhi Jois said

"Practice and all is coming"
All we can do is just keep on going, one foot in front of the other. Eventually, we will end up somewhere else. Hopefully, it's better than the place we started. If it's worse, then we can reflect on our decisions and actions and see where we could do better.
Most of life is completely out of our control so we might as well just ride the waves and do our best.

Acknowledgement of Country
Canberra Yoga Space acknowledges the Traditional Custodians of the ACT, the Ngunnawal people.
We acknowledge and respect their continuing culture
and the contribution they make to the life of this city and this region.