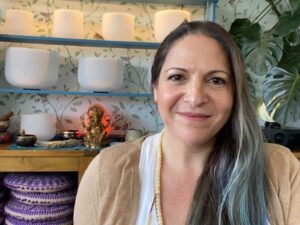 Canberra Yoga Space is open with online and F2F classes. In accordance with current ACT Health Department recommendations, there may be reduced class sizes.  Please check the Timetable for class times and capacity restrictions.
Like many small businesses CYS has been working hard to weather the storm of Covid, but in truth things have been really tough. The reality is that without your help we will not survive. Your practice is such a great way we help support you through this time and our dedicated and wonderful teachers are here to help you, guide you and hold space for you. But if you do not come to class then we cannot be here for you.
Practicing together has a unique quality that you don't get from practicing alone. Being in our beautiful space, which has had years of cultivation of energy and love, also holds us up. So I encourage you to please come back, please bring you friends and family and help them discover the many wonderful benefits of regular yoga practice.
We have the best teachers in Canberra with over 100 years of collective experience to guide you. No matter what your reason for coming to practice, there is no doubt that getting on the mat and connecting with yourself is the best balm for these turbulent times. I would be completely lost without my practice, some days it is the only thing that keeps me going and I love nothing more than to share this with you.
So if you have had a break, or a scared to come back, or you simply have forgotten that we exist and are here to help you, support you and connect with you then please come back to the mat, come home to yourself. Not only will you be doing something good for you, but you will be helping us get back on our feet and keep our doors open.
Refer a Friend and Win
Our Refer a Friend Promotion is running until the 18th December 2021. There is a wonderful hamper to be won and some runner up prizes too. Simply have your friend sign up for the 14-day pass if they have not been to the studio before and send me an email with both your names to go into the draw.
1st Prize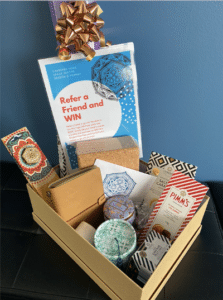 Hamper – A Mat, a cork block, a strap, a journal, a 5-class pass and loads more goodies.
2nd Prize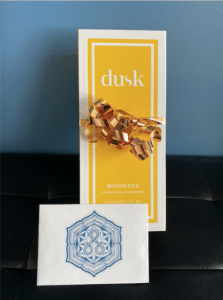 A Dusk Reed Diffuser and a 5-class pass.
3rd Prize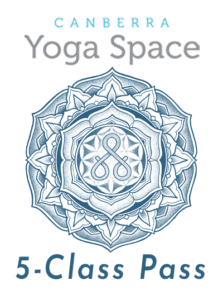 I really want to give this away, so enter today!!!!
What's Happening This Month at CYS
Timetable Changes
There have been a few changes to the open class timetable.
Morning Mantras will now be ONLINE Only.
Saturday Afternoon Yin will take a break for the time being; this class will likely come back in the cooler months.
Moving into the new year we will have a few other timetable changes that I am really excited about. I will tell you more in the coming weeks but I think you'll be really happy with the alterations and the new offerings.
Festive Season Timetable
Our Festive Season timetable is now up on the website and ready for bookings.
To make things easier this year there will be no special passes, just regular payment methods for the open classes. Many classes are both F2F and Online so please make sure you select the correct delivery mode. Studio numbers are limited to 16 students F2F. This may increase to 20 if covid restrictions are eased.
Please ensure you bring a full-size towel or blanket if you want to use the soft props, so you can place it over the top of them.
Also, make sure you check in every time you enter the studio with the CHECK-IN CBR APP.  If you do not have your phone, please ask your teacher to check you in. 
We have 2 fantastic workshops this Festive season with Jacqui and Jon. These workshops are F2F only and are a wonderful way to dive more deeply into your understanding of yoga practice.
F2F – Kriyayoga Intensive: Application, Observation and Equanimity in practice with Jon Smillie
3rd – 8th Jan 2022 7:00 – 8:30am
Cost: $150
For more details and to book your spot click here
F2F – New Year Iyengar Intensive with Jacqui Simmonds
14th – 16th January 2022
Friday: 6:30 – 8:30am
Saturday and Sunday: 8:00 – 10:00am
Each session is 2 hours
Cost: $150
For more details and to book your spot click here
Our regular class timetable will be back on the 17th of January.
New Beginners Yoga Course
Our New Beginners course will launch on the 17th January 2022.
This new course will be a 4-week format and an investment of $99.
It will now consist of 2 streams:
Beginners 1 for absolute Beginners, and
Beginners 2 for those wanting a progression of the concepts, sequences and shapes. If you have done the beginners course before and wish to continue, you will most likely find Beginners 2 is a better choice for you.
Our original Beginners Course class times will be split up between the 2 courses and some time changes have been made to some of the classes. These new courses will be ready for purchase in the coming weeks.
* Please note that the Beginners Course classes are not the "easiest" classes on our timetable, they are specifically designed as a discovery of the fundamental principles, practices and shapes that help set the base for a sustainable and joyful yoga practice. Should you need some guidance as to the most appropriate Open class for you, have a chat with regular beginners teacher and see if their open class is better for your needs or contact me directly. I am always happy to give you a call and have a chat about how we can best suit your needs. 
Since moving through this latest New Moon and leaving the past behind, I feel far more inspired and ready for us to move forward and rebuild the studio together. This is a wonderful opportunity for us to reshape our outlook and let go of all the old thinking that does not serve us. I know that we will recover and become a stronger community for the hardships we have faced. All the support and good wishes I have already received have been a wonderful inspiration to me, I am so grateful. You have really helped me keep going through these very difficult times.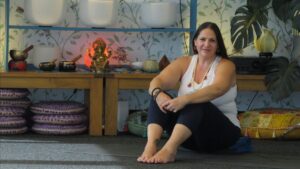 Thank you for all your support over the past year and wishing you all a very happy festive season.
Namaste