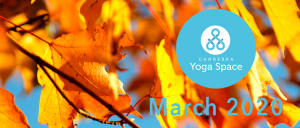 And welcome Autumn, the time of shedding and decay. What a wonderful time to be able to reflect and let go.
I often think about what it means to "let go" In our practice there are so many ways and opportunities let go and surrender. Finding a shape, being active where we need for stability and then allowing the rest of the body to soften as we dive into the comfort of the shape. This plays out again and again on the mat, but how easy is it to translate that to life?
So often we feel the need to hold on, gasp and strive, to fight and win, to feel "we must" or that's how "I" am. Sometimes it's necessary, stand up, be heard, make our point and hold to our belief. But when do we then surrender and allow? How easy is it to step back and just let things go, especially in the face of someone else's strong position, or a situation we have no control over? There is also the times when we are too frightened to let go for fear of the unknown states. What would life be like if I didn't do… or it I didn't have…
I often find in these times when we are met with strong beliefs it's the best time to step back, observe and just let flow, there is great learning to be had when met with someone else's strong need to be heard and assert themselves. There is great strength in being vulnerable, of stepping out of ones comfort zones and taking a chance.
On the other hand, when does letting go become apathy? I feel there is a fine line between surrender and apathy. Surrender is a conscious choice to allow and let flow. Apathy is giving up, without care or bother or the feeling of it being all too hard. I feel the two states have very different energetic qualities. On the mat it's easier to tell the difference. It's all in the posture, the strength and softness where there is active surrender. Or the laxity of going through the motions and staying in the comfort zone when apathy is at play. But in life the difference can be more subtle and giving away our power seems easier and less obvious. Often seceding to keep the peace or please another, in time realising that we have given everything away and are left empty, void and powerless. There is no real answer all we can do is be conscious of the unfolding, conscious of our choices and states of being and conscious of our movement, words and actions through life, the rest will unfold.
"There is strength in surrender and that comes from the power to choose."
Delve into Pranayama
This month we have the wonderful collaborative offering of Jacqui and Jill with Delve into Pranayama. This will be a wonderful exploration of the breath and pranayama techniques. Breathing is the corner stone of life and a huge focus of Asana practice, Pranayama is the breathing practices and studied in their own right. This will be a great experience for all our students so if you are struggling with how to breath in practice, or have any issues with breathing then you may find that the practices shared can help you unpack what is happening and improve your connection with the breath. We have about 10 spots left so book you place here.
I am super excited and passionate about my singing bowls and playing them for you. For those of you who have been to meditation on Friday night you will know what I am talking about, but if you have not experienced the bowls fully and are looking to deepen your meditation practice come along and see what can happen. Allow yourself to be immersed in the vibration of the chakra sounds, get lost in the stillness of body and mind and allow for no time, no space, no thought, just awareness. Book you spot here.
Easter Timetable
Easter is fast approaching and no doubt everyone will be itching to get away and enjoy a few days off and maybe head to the coast. Many classes will still be on but there are a few cancelations so please check the timetable below and online.
We look forward to seeing you on the mat and maybe sharing in a few Easter eggs ;).
Friday 10th Good Friday
6:15 – 7:30am Iyengar – Jacqui
12:- 1:15pm Beginners – TL
5:15 – 6:15pm Yogalates – TL
Meditation – Cancelled.
Saturday 11th
7:00 – 8:15am – Sivananda – Cancelled
8:30 – 9:45am – Yoga Synergy – Anna
1:00 – 2:00pm Yin/Yang – Eli
2:30 – 3:45pm – Beginners – Eli
4:00 – 5:15pm – Dynamic Hatha – Gail
5:30 – 6:30pm – Yin – Cancelled
Sunday 12th Easter Sunday
8:15 – 9:30am – Beginners – Fiona
9:45 – 11:00am – Hatha – Fiona
3:00 – 4:15pm – Restorative – Anna
4:45 – 6:00pm  – Ashtanga Blend – Gail
Monday 13th Easter Monday
6:15- 7:30am – Beginners – Eli
12:15 – 1:15pm – Weekend recovery – TL
5:45 – 6:45pm – Yoga for the seasons – Eli
A night of Kirtan with Kirtanarama
Kirtanarama are back for A Night of Kirtan Anzac Day long weekend.
Come and join us for some fun and chanting, letting go and allowing your spirits to be lifted. Kirtan is another way in which we can tap into our spiritual side, our sense of devotion and our inner self. If you have never been to a Kirtan before you might come and experience what it has to offer.
Tickets are on sale here, via our FB event page or click on the moving banner on the website.
Kids are welcome for free.
Thai Yoga Massage @ CYS
Thai Yoga massage is available at Canberra Yoga Space.
As you may know Tl, Elena and myself all did our training in Thai Yoga massage last year. We are all set and ready to offer you this beautiful massage. Thai yoga massage is done with cloths on, on oils or lotions and it highly relaxing a therapeutic. We are also able to offer pregnancy and post/natal massage. Session are available at the studio or privately through the teachers so please feel free to contact us separately or through the studio. Feel free to organise with a friend and come together as well.
90 minute massage $150 per person.
To book please email me: enquiries@canberrayogaspace.com.au
Katie's workshops
This is way in advance but I know who many of you like to get in early for her workshops. Katie has Sweet Surrender and Myths, Meditation and Relaxations Volume 2 coming our way In July and September. They are both up on our website and available to book into. Get in early as they fill up well in advance. Click the names above to book your place.
More details are on the booking page or our FB events pages and will be in Newsletters to come.
Don't forget if you have any insights you would like to share with our community please let me know, I am happy to add them to these newsletters. You never know when you might have something to say that can help someone else.
Wishing you all the very best and I look forward to seeing you on the mat.